WE HAD AN AMAZING TIME WITH PETRI AND WE LOOK FORWARD TO WELCOME HIM BACK AT THE END OF 2024  **  STAY TUNED
17 – 20 november 2023
We are very happy to have Petri coming back to teaching this 4 days workshop in Amsterdam also this year! Petri has been one of our regular guest teachers in Amsterdam for many years and one of the primary teachers from our own Ashtanga teachers. His very open and gentle approach to Ashtanga Yoga has a very inclusive and healing effect which makes him a very unique voice within this tradition of yoga. If you have met Petri before, you know you want to practice with him again.
The workshop sessions are for ashtanga practitioners of all levels including beginners (previous experience with ashtanga yoga is recommended). If you are new to Petri, we recommend you joining the whole program to get the most out of this experience.
*SINGLE SESSIONS ARE NOW OPEN FOR BOOKING*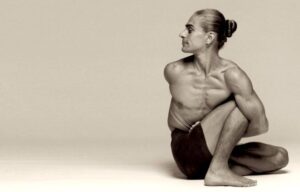 Program
Friday Nov 17th
8:00 – 9:45 Led class Primary Series
The traditional exact Vinyasa counting, Sanskrit asana names, and counting with a continuous rhythm guided by Petri
11.00 – 12.30 Opening Workshop
Introduction into the Ashtanga Yoga tradition and goals. Pranayama and meditation.
13.00 – 16.00 Workshop: 3rd chapter (Vibhūti-Pāda ) of Patanjali YogaSutras
The teachings of the siddhis, the yogic powers, which are gained through the practice of Patanjali's Ashtanga system. Patanjali explores deeply into the human mind and its possibilities. How much we can sense the nature and which kind of mind state we will need to dive all the way to the source of the creation. This class will be partly a lecture and partly the practice of how to use the Patanjali's techniques in the hands on asana adjustments.
Saturday Nov 18th
06.30 – 8.00 or 8.00 – 9:45 | Morning Mysore style practice  (two shifts)
11.00 – 12.30 Workshop: Breathing to the silence (based on Pranayama and mind work)
We create the space for the body with the Yoga Asanas. Lengthening, stretching, rotating, twisting, pushing, pulling, balancing. Is that what Sage Patanjai meant with Yoga, or the old sages like Vasistha or Yajnavalkya? The body control, yes, but where the mind dwells in the Yoga practice? Are we able to hear the breathing, sense the energy flow inside the nadis – energy channels? Are we able to sense the holiness, the quiet force of the Universe?
13:00 – 16:00 Workshop: Primary and Intermediate series techniques and adjustments
Petri is introducing a safe, gentle and beneficial adjustments for chosen Primary and Intermediate series asanas.
Petri wrote two books in collaboration with K. Pattabhi Jois and R. Sharath Jois between 2004 – 2007. Petri will introduce the Pattabhi Jois' vinyasas and details from the last years of his life. The technique class follows the books vinyasa method and alignments and will give a good understanding about the changes in the asanas and history of the asana alignments.
Sunday Nov 19th
06.30 – 8.00 or 8.00 – 9:45 | Morning Mysore style practice (two shifts)
11.00 – 12.30 Workshop: Positive and healing mantras
Mantras are powerful and deeply effective for the body and mind. In this workshop we are discussing about some of the ideologies behind mantras and learn how to use them as positive and healing instruments in daily life.
13.00 – 16.00 Workshop: Back and hip therapy exercises
Petri will introduce some healing and injury preventive back and hip exercises which anyone can start to do beside the Ashtanga practice. We are using Ashtanga asanas and special therapy techniques to strengthen and stretch the body.
For the last part of this session, we will talk about Yoga and Spiritual transformation. We will look at Samadhi states as discussed in the Yoga philosophy of Patanjali and how to practice them to reach higher states of consciousness.
Monday Nov 20th
06.30 – 8.00 or 8.00 – 9:45 | Morning Mysore style practice ( two shifts)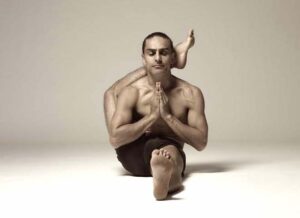 Location
Yoga Circle
De Clercqstraat 66-68, Amsterdam
Prices
Full program: €370 (15% discount for Yoga Circle students with active membership)
One day: €115
3 Morning Mysore Only: €120 (15% discount for Yoga Circle students with active membership)
[ Single session tickets are now open for booking, you will have to options in the booking page ]
[ For members discount, please send an email to [email protected] to request discount code before registering ]
Important Info for Mysore Practice:
You have the option of choosing your own practice starting time. Please fill in the information in this document before Thursday 16 November.
Please make sure you're filling in your name by the chosen starting time for each day of your practice on the different blocks of the document. Make sure to be on time for the time of your choice and check-in with the host when you arrive at the studio, for each session you attend.
Level
Previous experience with Ashtanga Yoga is recommended.
Cancellation
You will get a full refund if you cancel up to 30 days prior to the start of the workshop. Within 30 days there will be no refund, but you can of course arrange to transfer your spot to someone else.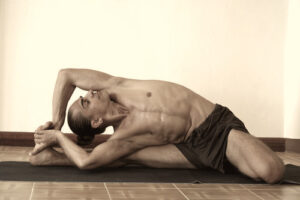 About Petri Raisanen 
Petri is an internationally renowned and highly respected Ashtanga Yoga teacher with a deep-rooted connection to Sri K. Pattabhi Jois, under whom he became authorized to teach Ashtanga Yoga in 2001. Co-founding Ashtanga Yoga Helsinki in 1997 alongside his friend and colleague, Juha Javanainen, Petri serves as the co-owner and director of the studio. Presently residing in Algarve, Portugal, Petri shares his life with his wife and children, and they have recently established their new shala, Yoga Roots Odeceixe.
Petri's teaching methodology centers around therapeutic and healing adjustments, which originate (besides his own practice and teaching) from his past work as a traditional Finnish folk healer and naturopath. His friendly, relaxed behaviour and intuitive perception make his workshops inclusive for practitioners of all levels and regardless of body type, providing immense benefits to individuals seeking physical as well as mental well-being.
For more information about Petri please visit his website.